Keep checking back as we continually update this page. Contact us with any suggestions or queries.
UNICEF has released new data on stillbirth. In 14 countries – including three low- and lower-middle income countries (Cambodia, India, Mongolia) – the stillbirth rate decreased by more than half between 2000 and 2019. More insights into the situation with stillbirths around the world can be found here
The Healthy Newborn Network has updated its Newborn Numbers page and related tools with the latest data to help guide country and regional policies, planning, and implementation of life saving interventions to avert preventable newborn and maternal deaths, and stillbirths.
On 31 March 2022, U.S. Senators Cory Booker (D-NJ) and Marco Rubio (R-FL) introduced the Stillbirth Health Improvement and Education (SHINE) for Autumn Act, legislation that aims to reduce the alarmingly high U.S. stillbirth rate. "Losing Autumn led me to lose my faith—that is until now," said Debbie Haine Vijayvergiya, mother to Autumn Joy for whom the bill is named and founder of the 2 Degrees Foundation. "Watching this issue receive such overwhelming support over the past few months has been healing for my soul. I wholeheartedly commend the bipartisan effort to advance the SHINE for Autumn Act and am deeply grateful to Senator Cory Booker and Senator Marco Rubio for championing this critical piece of legislation in the Senate.  At the end of the day, losing tens of thousands of babies every year should not be acceptable. We have a responsibility to understand why stillbirths are happening and identify what can be done to combat this crisis. We can no longer ignore this issue. We can, and must, do better for our future moms and children. The time has come for us to SHINE a light on stillbirth so that we can bring this tragic maternal and family health issue out of the shadows once and for all!" Full text of the SHINE for Autumn Act can be found here. Quotes written in support of the legislation by national and New Jersey organizations can be found here. A full list of organizations endorsing the bill can be found here.
HB1031, allowing issuance of a Certificate of Birth Resulting in Stillbirth in Washington State, was officially signed into law by Governor Inslee on April 16, 2021. See links below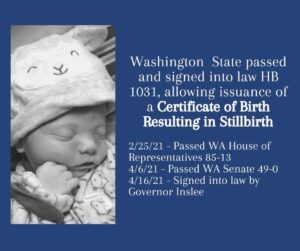 Star Legacy: 
https://www.facebook.com/StarLegacyFoundation/photos/a.491805564180287/4487773174583486/?type=3
https://www.instagram.com/p/CN5OyhQAW0s/?igshid=18ieq3bu6fc3i
Return To Zero :
https://www.facebook.com/rtzhope/photos/a.547496075276553/6037267606299345/?type=3
https://www.instagram.com/p/CN2jMFUrWyI/?igshid=16jn8t9wzc2lx
Why we need to end the silence around pregnancy loss: by Lisa K Hanasono PhD. January 2021
There is unequivocal evidence that the scaling up of midwives will reduce stillbirths and neonatal deaths and should be a key consideration for ENAP milestones. 
The Every Newborn-INDEPTH study involved >68,000 births and aimed to provide evidence to improve population-based survey data regarding pregnancy outcomes. Each year there are 5.1 million neonatal deaths and stillbirths, plus about 0.3 million maternal deaths worldwide. Around 75% of these deaths are still dependent on surveys, notably Demographic and Health Surveys (DHS) and Multiple Indicator Cluster Surveys (MICS), as main data sources. The study was conducted in five Health and Demographic Surveillance System (HDSS) sites from the INDEPTH Network in Bangladesh, Ethiopia, Ghana, Guinea-Bissau and Uganda, plus a coordinating team at the London School of Hygiene & Tropical Medicine and Makerere University School of Public Health and funded by the Children's Investment Fund Foundation (CIFF). The protocol was published in 2018 and the main study paper in Lancet Global Health this year.
The EN-BIRTH study involved observing >23,000 births using an innovative tablet-based system to validate data from routine facility registers and women's survey report.  The study was conducted in five hospitals in Bangladesh, Nepal and Tanzania, coordinated by a team at LSHTM and funded by the Children's Investment Fund Foundation (CIFF). The protocol was published in 2019 and the main study paper is in The Lancet Global Health (in press).
See our Rapid Response to the BMJ's recent series on Leaving No One Behind which left behind 2.6 million stillbirths a year!
The Partnership for Maternal, Newborn & Child Health (PMNCH), White Ribbon Alliance, and Every Woman Every Child, sponsored the annual "Accountability Breakfast 2020: Advancing Women's, Children's and Adolescents' Health During COVID-19." The event was watched by more than 2,200 people from 110+ countries representing governments, health practitioners, UN agencies, the private sector, civil society, media, researchers and academia. Take a moment to review the event summary and key highlights. If you missed some of the event or would like to refer to a portion of the event, you can access it on the website, which also contains videos, interviews and other resources for continued advocacy.
The Every Newborn Action Plan (ENAP):
Stillbirth rate data by country:
Family planning: 
Global development goals:
Key stillbirth-related series:
Country- and region-specific stillbirth research resources: