Welcome to the Stillbirth Advocacy Working Group, otherwise known as the SAWG! We are so glad you came to our page. 
What's new?
Have your say! SAWG strategic planning: At the October SAWG meeting we reviewed the last 4+ years, and started our initial brainstorming on our plans as SAWG for 2021 (and beyond). If you are a SAWG member and have not yet had the opportunity to contribute to this, please email SAWG co-chairs Zan Leisher (shleisher@aol.com) or Hannah Blencowe (hannah-jayne.blencowe@lshtm.ac.uk) for a link to a brief survey where you can provide your comments.
Have your say! A new global MNH initiative: We recently also set out an email about a new initiative AlignMNH: Collective Action for Maternal Newborn Health to be launched 18th November. AlignMNH is inviting members of the MNH community to join its iterative design efforts by completing a brief global MNH survey. Please do take time to complete to help give a voice to stillbirth on this platform.
Parent Voices Initiative: Help us add to the Parent Support Organizations Registry by providing us with details of stillbirth parent organisations, groups and/or point persons as part of our Parent Voice initiative by completing the survey here or sending these directly to parentvoices@lshtm.ac.uk. Thank you!
Who are we?
We are a group of parents, clinicians, researchers, policy-makers and others who are interested in using ADVOCACY as a tool to help end preventable stillbirths and support families and caregivers after a death.
In short, we are the ADVOCACY ARM of the International Stillbirth Alliance. We come from all over the world and we are always excited to welcome new members, especially from countries with high stillbirth numbers. Let us know if you are interested in joining!
We are co-chaired by Zan Leisher, ISA Chair, and Hannah Blencowe of the Centre for Maternal, Adolescent, Reproductive, & Child Health (MARCH) at the London School of Hygiene and Tropical Medicine. Support for meetings is provided by the Centre  of Research Excellence in Stillbirth (Stillbirth CRE), Mater Research Institute-The University of Queensland, which is also ISA's Western Pacific Regional Office.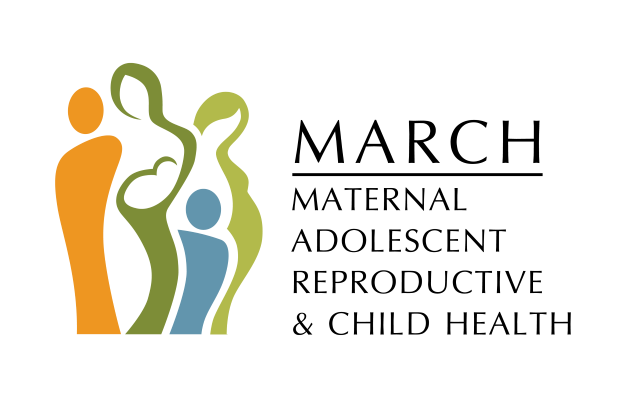 The MARCH Centre, led by Dr Joy Lawn, brings together over 200 researchers at the London School of Hygiene & Tropical Medicine to improve the health of women, children & adolescents worldwide. ISA is proud to be connected to MARCH through our advocacy work!
The SAWG was founded in 2016 by the Partnership for Maternal, Newborn and Child Health (PMNCH) of the World Health Organization. When PMNCH shifted its strategic priorities, ISA and LSHTM stepped in to keep the SAWG going.
PMNCH is an alliance of more than 1000 organizations–including ISA!!–in 192 countries, working on sexual, reproductive, maternal, newborn, child and adolescent health. PMNCH serves as a platform for the members to align objectives, strategies and resources, and agree on interventions to improve maternal, newborn, child and adolescent health. If you represent a health-related organization, consider joining PMNCH to add your voice!
What do we do?
We have monthly meetings on our Zoom platform courtesy of ISA's Australia Regional Office, the Stillbirth Centre for Research Excellence (thank you CRE!!!). One of the best parts of our meetings is hearing from everyone about the latest stillbirth work we've been doing.
We are doing our part to build up the GLOBAL NETWORK FOR STILLBIRTH! Send us a message if you are interested in joining us.
We also get together in person once a year at the fantastic ISA annual conferences. In between times, we also get a lot of work done.
The Global Scorecard for Ending Preventable Stillbirths
One of our major projects is the Global Scorecard for Ending Preventable Stillbirths, created to track progress towards milestones of Lancet Ending Preventable Stillbirth's Call to Action. These images show the first page of the Scorecard in English and the second page of the scorecard in Spanish.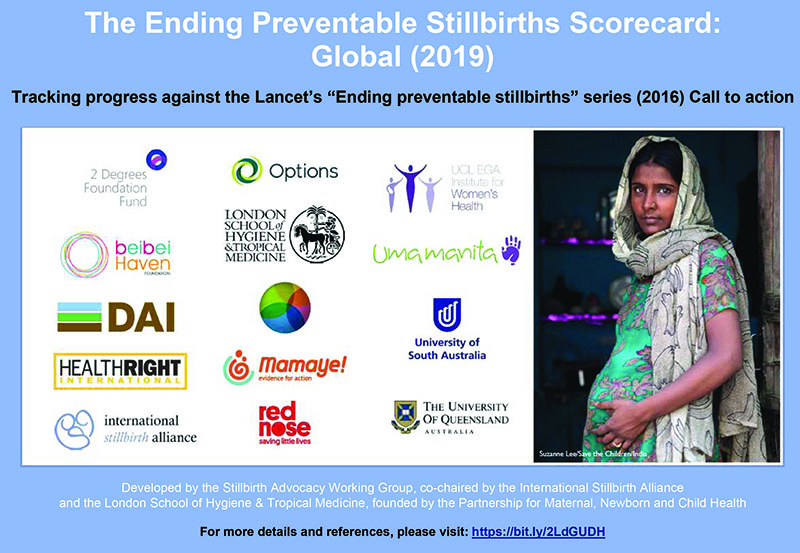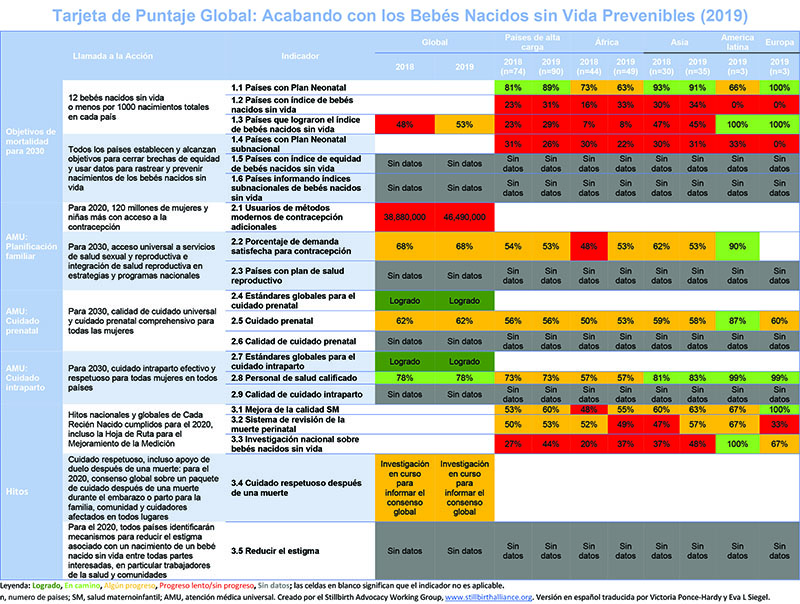 The Global Scorecard has been developed to track progress against the Call to action set out in the Lancet's 2016 series on Ending Preventable Stillbirths.
The SAWG Blog Series
Another project is our wonderful Blog Series! Thank you to Save the Children's Healthy Newborn Network (HNN) for hosting! 
Many thanks to those who have already written posts, which go on Save the Children's Healthy Newborn Network (HNN) website. Check out prior posts:
We love to raise your voices, so please let us know if you are interested in writing a post. All it takes is an idea about stillbirth and 600 words! And think about joining HNN!
The Parent Voices Initiative
SAWG has received a grant from WHO through PMNCH with the aim of finding and raising the voices of parents bereaved by stillbirth to strengthen advocacy for stillbirth prevention and post-stillbirth bereavement support. The grant supports two projects, "Finding Parent Voices" and "Raising Parent Voices". The Finding Parent Voices project is to develop a global registry of parent support groups and organisations (both formal and informal). We are in the process of developing this registry and we are reaching out to ask you for details of organisations and/or point persons that you think should be included in the final registry.
As a guide, we are using the following definitions:
Formal parent support organisations: these exist in full or in part to provide bereavement support to parents who have experienced a stillbirth (noting that this is often offered alongside support to parents who have experienced a newborn death or other pregnancy loss). For example, Sands in the UK.
Informal parent support groups/networks: these exist to provide informal and group support for parents who have experienced a stillbirth (noting that this is often offered alongside support to parents who have experienced a newborn death or other pregnancy loss) and may include, but are not limited to, meet-up and community groups, Facebook groups and pages, and online forums. For example, Healing Hearts community support group in New Jersey.
Parent support point persons: these are individuals who, through their professional work, for example as midwives or doctors, have helped to facilitate support activities for bereaved parents. Point persons may or may not create formal or informal networks or support groups, but they will have explicit intent to support parents and/or create a support group or be offering informal support to parents. Initially, we are only looking to locate point persons in countries where there are few or no formal organisations.
More information coming soon!
Past work 
Below is a list of some of the initiatives we have been involved with over the past few years, to give you a taste of the breadth of our work. 
ISA supports the global call to action for the full recognition and inclusion of sexual and reproductive health and rights (SRHR) in universal health care (UHC). Sign on here to lend your own organization's support.
WRA "What women want – demands for quality healthcare for women and girls" survey seeking to hear from >1million women and girls worldwide asking them what their one request for quality reproductive & maternal healthcare services is, launched April 11th 2018. Opportunity to engage to advocate for stillbirths, including completing the survey and possibly a blog (WRA have added codes for stillbirths to be able to capture these responses). Survey extended to March 2019.
Women Deliver conference in Vancouver in June 2019: anyone going should have pre-conference discussion on to maximize our presence there. Will be an excellent platform for awareness around the Global Scorecard. Joy Lawn leading session on "Who has the power in pregnancy?" with speakers from Uganda and S Africa slated to attend
Recent stillbirth-related global publications/ events/ initiatives
Outputs from the SAWG
Get connected!
List of acronyms (let us know if there is an acronym we should add to this list!)
BJOG: British Journal of Obstetrics & Gynecology
CVRS: civil vital registration statistics
DAI: Development Alternatives, Inc.
DHS: Demographic and Health Survey
FIGO: International Federation of Gynecology & Obstetrics
HNN: Healthy Newborn Network
HQ: headquarters
ICM: International Confederation of Midwives
ICN: International Council of Nurses
IGME: Inter-Agency Group on Mortality Estimation
IMPROVE: IMproving Perinatal mortality Review and Outcomes Via Education
IPA: International Pediatrics Association
ISA: International Stillbirth Alliance
LMIC: low- and middle-income countries
LSHTM: London School of Hygiene & Tropical Medicine
MCH: maternal and child health
MOH: Ministry of Health
MNH: maternal & newborn health
MNCH: maternal, newborn and child health
MPDSR: Maternal and perinatal death surveillance and response
NCD: non-communicable diseases
NN: neonatal
PH: public health
PM: post-mortem
PMNCH: Partnership for Maternal, Newborn and Child Health
PND: perinatal deaths
PSANZ: Perinatal Society of Australia and New Zealand
SB: stillbirth
SEARO: WHO Southeast Asia Regional Office
TOR: terms of reference
UNFPA: United Nations Population Fund
UNICEF: United Nations Children's Fund
UN-IGME: United Nations Inter-agency Group for Child Mortality Estimation
VASA: Verbal Autopsy and Social Autopsy
WD: Women Deliver
WHA: World Health Assembly
WHO: World Health Organization
WRA: White Ribbon Alliance
SAWG's VISION: A world in which preventable stillbirths no longer occur, and care for families and health workers after stillbirths is compassionate, high-quality, and culturally appropriate.
SAWG's MISSION:
1.       Develop and support a network that advocates for stillbirth prevention and care within the existing global architecture (Global Strategy, Every Newborn Action Plan, Quality-Equity-Dignity, etc.)
2.       Ensure key evidence and data are visible, resourced, tailored appropriately for key audiences, and linked to accountability at country level and globally
3.       Seize key moments to advocate for stillbirth prevention and care
4.       Empower "bottom-up" advocacy from parents and parent groups
PMNCH is in the middle of developing its new 5-year strategy and has decided to include stillbirth prevention as one focus. SAWG provided feedback on the draft PMNCH strategy during Phase 1 of the strategy development process, but many of our comments were not included in the current version, so the draft strategy still has some important deficiencies related to stillbirth. PMNCH has called for input to the revised draft strategy (available here) by next Thursday, June 4. With about 1,000 member organizations, PMNCH has a very large constituency. This means that inputs to its draft strategy will be more effective if many organizations send the same input. This is where you come in. We are asking all organisations working on stillbirth-related issues to send a message to PMNCH to do better in incorporating stillbirths in its 5-year strategy. Please take action no later than Thursday, June 4:
(Note that you do not need to be a member of PMNCH in order to provide input.) 
Please also share this email widely with colleagues who may be able to submit on behalf of stillbirth inclusion. The more people and organizations who intervene, the more likely our voices will be heard!
Recent publications from SAWG members
Sept 2020 – 'Australian men's experiences of leave provisions and workplace support following pregnancy loss or neonatal death' by Kate Obst et al and accompanying media article
April 2020 – 'Classifying stillbirths in a tertiary care hospital of India: International Classification of Disease-perinatal Mortality (ICD-PM) versus cause of death-associated condition (CODAC) system'. by Dr Bharti Sharma and Dr Neelam Aggarwal
Jan 2020 – 'Men's grief following pregnancy loss and neonatal loss: a systematic review and emerging theoretical model' by Kate Louise Obst et al
Dec 2019 – 'A retrospective review of facility-level obstetric complications and stillbirths in southern Haiti, 2013 – 2016' by Alka Dev et al
Other work by SAWG members
Aliki Christou: at the University of Sydney and team have developed interviewer guidelines for interviewing bereaved mothers and fathers in Afghanistan; please email her at aliki.christou@sydney.edu.au for further information or to access these. You can access the training manual here: Stillbirth study Afghanistan_Training Manual for Interviewers_v1.1_10.10.17
Sue Steen:  Birth With Dignity: Mothers and Babies of Uganda
Mary Kinney: Elevating women's voice in the politics of newborn health
Debbie Haine: Establishment of Stillbirth Resource Center, New Jersey
What is advocacy?
Not sure what "advocacy" really means? No worries! Check out these pages from Save the Children International  to get started. It's all about MAKING CHANGE HAPPEN and at ISA, that means ending preventable stillbirths and supporting families and caregivers after a death – JOIN US! 
Let us know what you think about our work through Twitter #EndStillbirths @ISAStillbirth or on our Facebook page (don't forget to like our page).